Latest News
July 18th, 2019
The Chaos, the Glory and the Glimmering!
The book launch for 'Ringlet and the Day the Oceans Stopped' took place at Tūranga on July 18th. The book was launched by Rachael King of WORD Christchurch, and attended by 200 excited children and parents. Thanks to WORD Christchurch for sponsoring the launch, and to Christchurch City libraries for use of the sophisticated modern TSB Space at Tūranga.
Rachael King from WORD officially launches 'Ringlet':
Mary McCallum welcomes the audience on behalf of The Cuba Press:
June 1st, 2019
Come to the launch event 'There's something dark in the water' at Tūranga!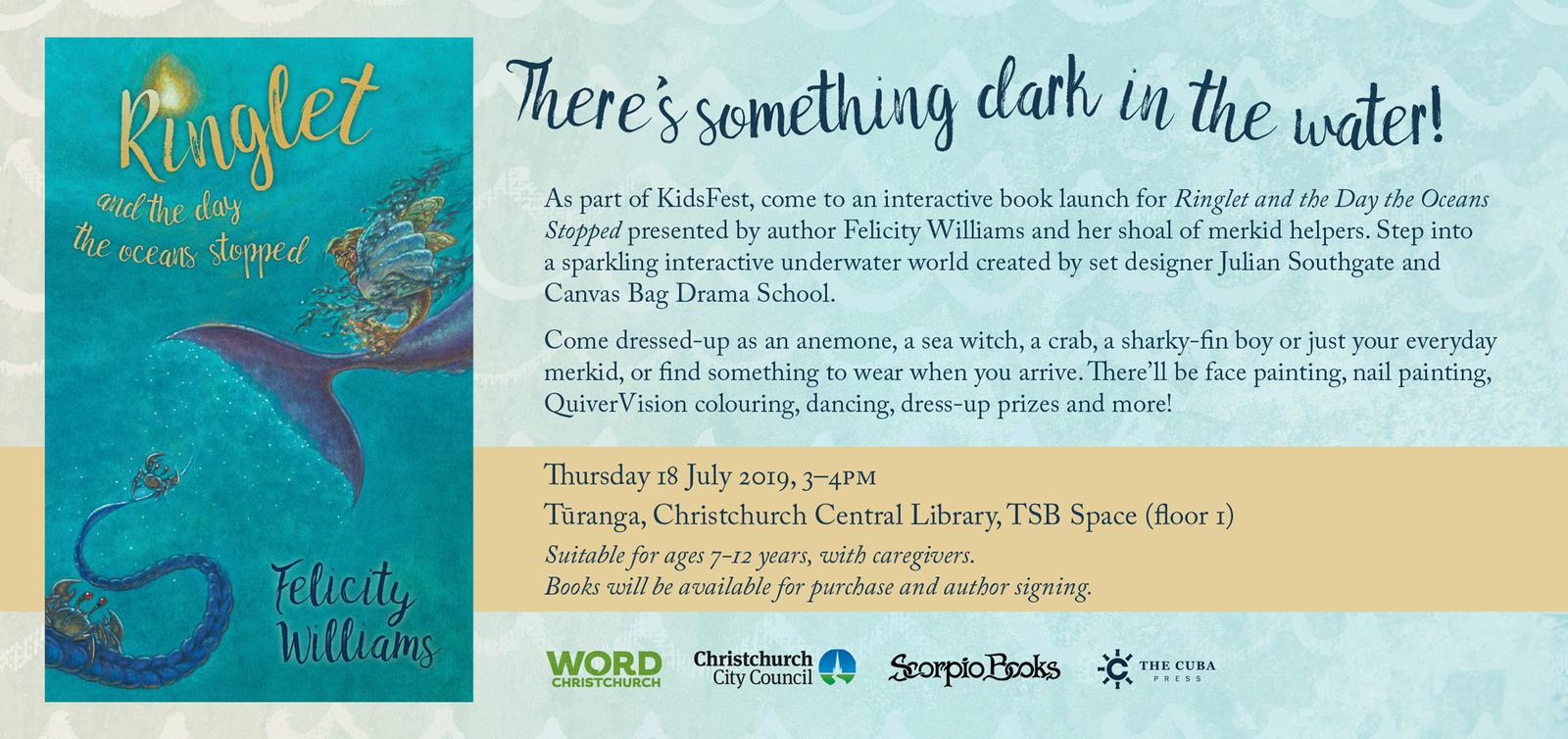 February 1st, 2019
There's something dark in the water!
Yesterday, after nine years of mermaid spotting, otherwise known as research and writing, I signed a publishing contract with The Cuba Press, an independent publisher based in Wellington, Aotearoa New Zealand.
Previously, on 14 September I got the email that every writer hangs out for:
From: Mary McCallum
To: Felicity Williams

Kia ora Felicity – The answer is YES!! We would love to publish your RINGLET story. Our reader says it's a 'great story'. She found it compelling with some great writing and character development.
So . . .
"Ringlet and the Day the Oceans Stopped" is a fantasy novel for 8 - 12 yr olds.
'An 11 yr old mergirl has better things to do than save the oceans from a deadly stagnation. Except there's no one else. And worse still, something monstrous is hellbent on stopping her. So it's her against time and tides and there's not much left of either.'
The launch is a Kidsfest event and will take place at Tūranga, Christchurch's new central library on July 18th.
I am grateful for the support of Rachael King, Director of Word Christchurch in facilitating the launch.
You are all invited!
February 12th, 2017
Felicity has just completed a middle-grade fantasy novel and she is currently seeking representation for it.
"I really enjoy both reading and writing middle-grade fantasy fiction because you can stretch the truth quite a bit with those readers and the more you stretch, the more they love you for it.
At the moment I prefer not to say too much about the novel until I've secured an agent or publisher. After that, I'll talk about it day and night, although considerably more interesting I think, will be what readers have to say.
What I can tell you is that it's a fast-paced action adventure set in a sparkling, eerie, dangerous fantasy world.
Of course, there's nothing new about that . . . unless I've been as successful as I think I have in stretching the truth a little here and there, and sometimes by more than a little . . ."
Felicity writes and posts regularly about books, children and eccentric moments as they present themselves on Twitter @Flapdazzle and on Facebook.